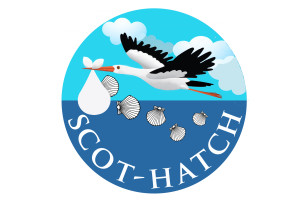 Latest News!
We have entered the Virgin Media 'Pitch to Rich' competition, we would appreciate your support by voting for us at this link:
http://www.virginmediabusiness.co.uk/pitch-to-rich/new-things/scot-hatch-limited
Scot-Hatch Ltd is based on the North West coast of Scotland and is focused on producing high quality diver caught King Scallops. We (Scot-Hatch Ltd) are committed to perfecting the technique of "Scallop Ranching", new to Scotland and the UK but common place in other parts of the world. Working in collaboration with Norwegian company Scalpro AS since 2010 we have carried out considerable research and run commercial scale trials and are now seeking investment to further develop our business. A business we believe will develop into a thriving, profitable industry that is sustainable, of low environmental impact and will bring valuable employment to fragile areas.
Government figures and anecdotal evidence from scallop processors and fishermen indicate a 30% decline in the scallop stocks on the North West of Scotland in the last 10 years. Processors report a noticeable reduction in the size of scallops caught on the NW coast. As scallop fishermen ourselves we have seen it with our own eyes, and that is why in 2010 we decided to investigate if we could establish a sustainable and reliable source of scallops to secure our future.
In essence, our technique involves producing young scallops in a hatchery, growing them to market size on the seabed and then harvesting them by diver. Diver caught scallops attract a premium of 2 – 2.5 times the price of the more industrially dredge caught scallop but there are many more advantages to Scallop Ranching;
– Ranched scallops are truly sustainable. We can only take out, what we put in.
– No chemicals or antibiotics are used in production.
– Harvesting by divers causes no damage to the seabed.
– Scallops filter organic material from the sea and actually improve water quality. There are also no feed bills, scallops feed for free in the sea.
– Ranching scallops is good for the "wild" scallop fishery because they provide spawning stock biomass i.e
more scallops in the sea = more spawning = even more scallops in the sea.
Good site selection and stocking density can result in a much increased yield in ranched scallops. (Yield is the ratio of the weight of edible meat to the weight of the whole scallop). The photo below shows scallops of the same age, the one on the left has been ranched in favourable conditions, the others are from the "wild" fishery. Scotland currently produces 500 Tonnes of diver caught scallops which does not meet demand and the current level of production ensures that new markets cannot be explored and established. Scotland`s global reputation for the quality of its seafood and our sustainable production methods mean ranched scallops are very attractive to consumers, chefs and retailers because;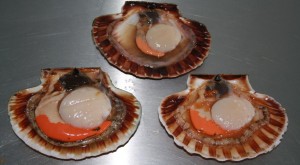 – They are consistent in size and quality (of particular concern to Chefs).
– Stormy weather can stop the supply of "wild" scallops for days on end, whilst our scallops are always available.
– They are traceable to within a few square metres of seabed.
– Scallops are available in different sizes to suit the requirements of individual customers.
Our core concern is the sustainable annual production of 130 T of quality dive caught scallops for sale in the whole shell. Fine wine and whisky are not produced overnight and neither are King Scallops. People are often surprised to discover it can take 4-5 years to grow a large scallop (125-140mm) but as they say, "Good things come to those who wait". We have not invented something new but are modifying a proven process to the particular environmental conditions here in Scotland. Conditions which arguably produce the finest scallops in the world.
Within the current shareholders and directors of Scot-Hatch we have considerable experience in every aspect of scallop production, from the hatchery to the plate;
– A world expert in scallop hatchery/nursery production.
– Professional scallop divers with many years experience of the "wild" fishery and scallop aquaculture.
– The former Managing Director of Scotland`s largest supplier of dive caught scallops and former sous chef of a Michelin star restaurant.
We have many of the ingredients to make this a very successful and profitable business; knowledge, experience, equipment and work ethic. Now we need the investment to take this business to the next stage.
Whilst Salmon Aquaculture now flourishes in Scotland, Shellfish Aquaculture remains a very poor relation. Despite an 18,000 km coastline, production figures for aquaculture reared shellfish show that in 2012 Scotland produced 6,500 T of shellfish (mostly low value mussels). That equates to 3Kg / km of coastline, China in comparison produced 434 Tonnes / km on its 30,000 km coastline.
In 40 years, Japan increased their production of Yesso scallop from 10,000 to 400,000 tonnes. Through an aquaculture based fishery they totally transformed their declining natural fishery.
New Zealand, Canada, North America, Chile etc have all made huge progress in increasing shellfish production but Europe is lagging behind. Historically, Scotland has been able to rely on her rich fishing waters but this is no longer sustainable: every year more and more restrictions and quotas are imposed on its shrinking fishing industry. These measures are taken in an effort to maintain the current fishing effort rather than to promote growth. Scot-Hatch believes king scallop aquaculture can be very much a growth industry and, in addition, offers the potential of enhancing the natural fishery through increasing the spawning stock biomass i.e. more scallops in the sea = a greater spawning = even more scallops in the sea.
Our concern is dive caught scallops because that is where our experience lies. However, dive caught scallops will never produce thousands of tonnes of scallops but there are other methods of scallop production and crucially they require the same initial intermediate stages that dive caught scallops do;
EAR HANGING – Scallop spat is either caught naturally or produced in a hatchery, the scallops are then grown to +45mm in lanterns or trays and then the "ear" of the scallop is drilled and it is attached to a rope and hung in the sea. Japan produces 130,000 tonnes (1.2 billion scallops) by this method every year.
SUSPENDED CULTURE- The scallop spat is caught naturally or produced in a hatchery and is then kept in lanterns for its entire life.
Both of these methods are unsuitable for growing scallops for 5 years because of the marine fouling that attaches to the lanterns and scallops. However, when grown off the seabed the scallops grow faster and have a higher yield. Our own small scale trials have confirmed this and we will continue to develop these methods with a view to producing a product to target specific markets such as the small (in shell size) ½ shell markets in Europe, particularly Italy and Spain.
AQUACULTURE BASED DREDGED FISHERY- The procedure is exactly the same as our dive caught method except the harvesting is carried out by dredging the areas where the scallops have been seeded. In Japan 170,000 tonnes (1.5 billion scallops) are produced using this method. One potential benefit to the seabed environment of this approach is that dredging is only carried out within designated areas leaving much of the ocean floor undisturbed.
A HATCHERY IN SCOTLAND- We hope that in time we will create the demand for scallop spat that will justify the building of a hatchery. That demand does not need to come from Scotland, just as Norway supplies us, we could supply England, Ireland and Wales.