Scallop farming / ra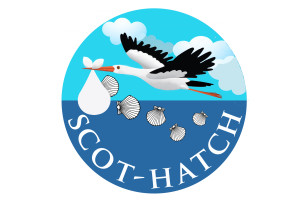 nching has been practiced successfully for many years around the world but sadly not   here in Scotland.
At Scot-Hatch we believe that Scotland is underperforming in Shellfish production, particularly of King Scallops. Our goal at Scot-Hatch is to remedy this. We are convinced that Scotland can have a thriving, profitable industry that is sustainable, of low environmental impact and that can bring valuable employment to fragile communities.
Since 2010 we have been working with our Norwegian partners, Scalpro AS. Over many years they have developed a hatchery technique that allows them to reliably produce scallops on a commercial scale (4.5 million in 2011). We have been able to send our scallops from Scotland, to Norway for "breeding", the offspring have then been returned to us for on-growing. These young scallops have been
produced "out of season" and this means that their growth is far in advance of what could be seen in the wild. The benefits of this cannot be understated; a 20% reduction in production time and even more importantly, a +40% reduction in the time spent in the costly, labour intensive part of the production cycle. This is a huge boost since it can take 5-6 years to grow a King Scallop of real quality.
A hatchery is essential to our plans because only it can supply enough scallops to supply a new industry which could encompass;
Dive caught fisheries.

Scallop Ranches, fished by dredgers.

Stock enhancement schemes, to increase the Spawning Stock Biomass of the natural population.
Our aim is to have an operational hatchery in 2016 built under the direction of Prof. Thorolf Magnesen of Scalpro AS who is a world recognized expert in hatchery technology.
Within Scot-Hatch we have considerable experience of Scallop Aquaculture and as long time scallop fisherman, we have built up a knowledge of what is required to grow a King Scallop that can only be gained through thousands of hours spent diving for them.
Scot-Hatch is pleased to be associated with Keltic Seafare who have supported this project from the outset. Keltic are Scotland`s biggest supplier of dive caught scallops and are committed to ensuring their own supplies from a sustainable source.
2013-2014 will see us import 2 million Scottish Scallops that have been" hatched" in Norway. Never before has this been tried on this scale in Scotland. We will have young scallops for sale this year and next and are actively seeking customers. We will continue our own dive caught fishery but would welcome any inquiries to either purchase spat or to learn more about this exciting and evolving project.